Complete information regarding Metal Roofing
Thinking about having the roof of the house of metal? Or have you ever wondered why many people are crazy to use metal as a roof instead of anything else? These are the questions that surely came to your mind; whenever you drive on a road and see most of the roofs are made with metal sheets. Basically, metal roofs have many advantages. For example, they are rust resistant, powder coated, water resistant and durable than concrete roof.
Here, we are giving you all the required information regarding the metal roofs. Everything you need to know about roofs with metal from start to end.
Benefits of the roof metal
It does not matter if you are living in an area where strong winds, rain, moisture, snow, and hail are frequent visitors. These metal roofs would protect your house like a mountain. You can install such roofs on your house to keep your property and family protected.
Metal Roofing cost you a very less maintenance charge. One thinks to keep in mind the installation must be done properly because poorly installed roof can create some problems in future.
Many reasons make these roofs nature friendly, as we all know that metal is a very recyclable matter. You can also have the metal for your roofing which is made of recycled metal.
Do you know what the best thing about having a metal roof is? Many manufacturers out there offer Metal Roofing with various types of warranties, such as covers leaks in the roofing system and a warranty for the pain. The warranty depends on which metal you choose for your roof.
Things required for Metal roof
There are lots of things or, in other words, components required to make the job done. Here is the list of the component you would need to complete the task:
To install the metal roof, you need some supportive accessories such as clips, underlayment, sealant, pipe boots, fasteners, butyl tape, and rivets.
Sheet of metal or metal coil
Certainly, you require long metal coils; at the initial stage, the metal comes in sheets or coils, and then according to the roof measurement, you can cut it out or have professional help.
Panels are the rolls of the metal that you need to cut out as your desired size and are ready to install together to take the form of the metal roof. The profiles will decide how the panels fit and connect to hold the Metal Roofing structure.
Now everything is required to make the metal roof you have gathered. It's time to choose where you want to install the Metal Roofing. Let's have the details look inside it.
 Metal roofs work amazingly in commercial areas due to their longevity and durability, and you can use such roof on your commercial area located in a tropical location. It can prevent the damages caused by salt and moisture. The commercial area includes hotels, stores, offices, restaurants, schools, and universities.
To install the metal roof, the size does not matter, whether it is a large mention or a small shed, you can customize your roof with metal sheets.
Suppose you are a person who is posses a factory, warehouse, or agricultural building, no need to worry. Metal Roofing works amazingly in these places.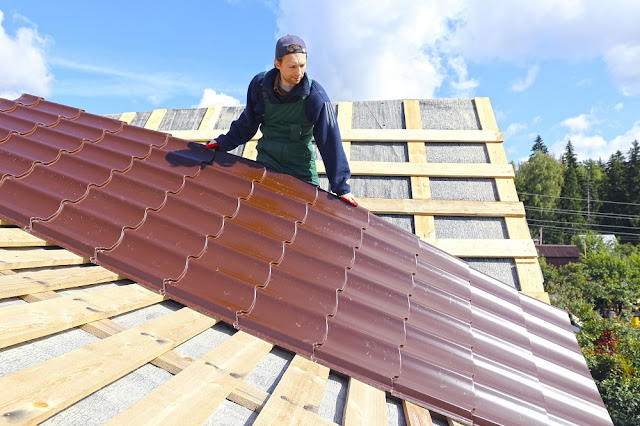 Different types of metal for metal roof
The metal roof is popular because of its durability, variety of options, versatility, and ability to be customized for every individual building.
There are almost 100 metals on the periodic table we have right now. Some of the most used metals for roofing materials are steel, aluminum, zinc, copper, and stainless steel.
All of these metals are best in their places. Make sure you choose the right one according to your need and requirements.
Conclusion
Having a metal roof in your residential or commercial building can be a money-saving decision. Due to its versatility and durability, Metal Roofing made its place everywhere. We deeply understand the importance of choosing the best roofing for your residential or commercial place.